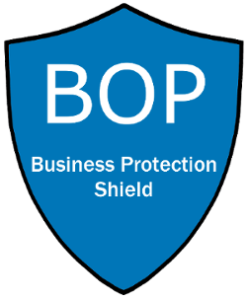 A BOP, or Business Owners Policy is a specialized plan that includes coverage that is important for each business owner. These Policies generally share some components for each business owner, but are then customized to each customer to ensure that they get coverage where their business needs it. Business Owners need to be aware that even if they have a general umbrella policy for themselves, their business may still be at risk! Let's take a look at a few types of insurance commonly included in a Business Owners Policy. Keep in mind the coverage options will vary for each business owner, and this article is more of a guideline.
General Liability. General Liability coverage is the overall catch mechanic in a policy. It helps protect your business if there is a physical injury, property damage, or personal injury that occur during the operations of your business. Simply put, if something goes wrong with a person or your building, General Liability may help you out of a sticky situation.
Business Property Coverage. This coverage is focused on protecting your building and the stuff inside of it. For example, if there's a fire or disaster inside your business, your property coverage may help you by covering the repair or replace costs.
Business Interruption Coverage. Have you ever wondered what would happen if you couldn't open your doors because there was a fire? How about a tornado? Or any multitude of disasters that could really ruin your day. Business Interruption Coverage may give you a safety net to protect you from lost earnings or damaged merchandise.
In addition, you will have the option to include a multitude of other coverages that will be specific to your business, your needs, and your budget. Things like Business Auto insurance, Data Compromise, Outdoor Property, and even Equipment Breakdown coverage are available. If you're unsure if you need a certain type of protection, speak to an agent about what would make sense for your business.
Worried about the cost of your business insurance? The premium you pay will depend heavily on the type of business you have, the optional coverages you select, and the limits and deductibles you choose. The best way to find out the best policy fit for you is to speak with an experienced agent to tailor fit exactly the coverage you need, at a price point you can afford.